Destin Plastic Surgery The Grant Building
4485 Furling Lane
Destin, FL 32541
Phone: (850) 654-1194
Monday–Thursday: 7 a.m.–5 p.m.
Friday 7 a.m.–2 p.m.

Anti Aging Skincare Clinic The Grant Building
4485 Furling Lane
Destin, FL 32541
Phone: (850) 654-8015
Monday–Thursday: 7:30 a.m.–5 p.m.
Friday 7:30 a.m.–2 p.m.

ThermiTight®
Over time, skin and other tissues throughout the body lose the tightness and tone associated with youth—and over-the-counter products just don't offer long-term results. The ThermiRF system offers a radiofrequency skin tightening solution for a new generation. At Destin Plastic Surgery, we offer ThermiTight™ treatments to address areas of loose skin and fat on the body.
What Is ThermiTight?
ThermiTight uses radiofrequency energy to tone and tighten areas of loose skin on various parts of the body. It's a versatile treatment that can be used on many smaller fat deposits and areas of sagging skin, including:
Upper arms
Abdomen
Flanks
Back
Thighs
Neck and jawline
During a ThermiTight session, your surgeon makes a very small incision at your treatment area. He inserts a thin probe, which emits radiofrequency energy, heating both unwanted fat cells and loose skin, causing them to tighten and leaving firm, toned contours behind. At Destin Plastic Surgery, we use a local anesthetic to keep you comfortable throughout the treatment. Most patients say they experience a sensation of pressure or warmth.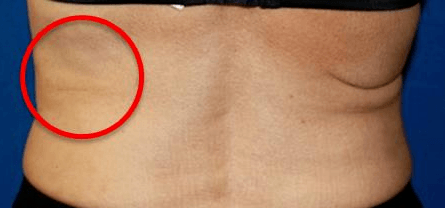 This photo shows the results one patient got from a ThermiTight on one side only.
What Are the Benefits of ThermiTight?
Women and men with mild to moderate skin laxity are excellent ThermiTight candidates. The benefits of the treatment include:
Comfort: ThermiTight can be performed under local anesthesia, and you should feel nothing more than gentle warming of the skin.
Natural-looking results: The probe that delivers the thermal energy enables us to sculpt your contours without the appearance of stretched or pulled skin.
Convenience: Most patients only need a single treatment session, which typically lasts 60 minutes, to achieve the desired outcomes.
ThermiTight is one of the most popular procedures we offer.
A Reputation Built on Results
You deserve the highest caliber of service, care, and results, and at Destin Plastic Surgery, we're committed to providing all that and more. But don't take our word for it—see for yourself what our actual patients have to say about their experiences with us.
Read More Patient Reviews
What Happens After ThermiTight?
Patients notice immediate results as the skin begins to shrink, and changes continue to emerge gradually over the next several months. There's no downtime following your treatment, but some patients experience very slight swelling and/or redness.
If you're bothered by larger areas of unwanted fat, liposuction may be a better option.
Dr. William Burden
Founder, Destin Plastic Surgery
Board-certified plastic surgeon Dr. Burden knows that building a distinguished career doesn't happen overnight. He's been serving the community for more than 2 decades, providing personalized aesthetic care and leading the field with pioneering techniques.
State-of-the-Art, Multi-Specialty Surgical Center