Destin Plastic Surgery The Grant Building
4485 Furling Lane
Destin, FL 32541
Phone: (850) 654-1194
Monday–Thursday: 7 a.m.–5 p.m.
Friday 7 a.m.–2 p.m.

Anti Aging Skincare Clinic The Grant Building
4485 Furling Lane
Destin, FL 32541
Phone: (850) 654-8015
Monday–Thursday: 7:30 a.m.–5 p.m.
Friday 7:30 a.m.–2 p.m.

ThermiVa®
Over time, skin and other tissues throughout the body lose the tightness and tone associated with youth — and over-the-counter products just don't offer long-term results. The ThermiRF radiofrequency system offers a skin tightening solution for a new generation. At Destin Plastic Surgery, we offer 2 ways to use this innovative technology: ThermiVa® treatments to add tightness and tone to the vagina and vulva, and ThermiTight™ treatments to treat areas of loose skin and fat on the body. Learn more about each below.
For more information about what the power of radiofrequency energy can do for you, request a consultation onlinerequest a consultation online or call Destin Plastic Surgery at (850) 654-1194.
THERMIVA®
What It Does
ThermiVa is an exciting nonsurgical vaginal rejuvenation option in Destin for woman from Fort Walton Beach, Valparaiso, Niceville, and surrounding areas who'd like to treat the uncomfortable symptoms that sometimes affect the labia and vagina area as time passes. This process, technically called vaginal atrophy, is often age-related, but it can also begin as the result of childbirth. Symptoms are varied but can include:
A feeling of "looseness" or laxity
Vaginal dryness, even during sex
Difficulty achieving orgasm
Urinary incontinence or "leaking"
These physical symptoms can lead to deeper issues with romantic relationships and personal confidence. We understand that such issues are not always easy to talk about, but they are important to the core of how many women feel about themselves. That's why we approach each case with compassion and sensitivity and why we are so glad to offer a convenient solution in the form of ThermiVa.
ThermiVa uses safe, gentle radiofrequency energy to selectively treat the affected tissues, causing them to tighten and restore sensation. The process does not require surgery, needles, or anesthesia — and you can return to your regular activities, including intimacy, as soon as your treatment is over.
In some cases, a woman may be a better candidate for surgical vaginal rejuvenation. Our doctors will make a recommendation for you during your consultation.
During your treatment, your practitioner applies a special handpiece shaped like a wand to the external area (your vulva and labia), the internal area (your vagina), or both, depending on your individual goals. The handpiece transmits radiofrequency energy in pulses. During this time, most patients say they experience a sensation of warmth or tingling that isn't uncomfortable.
Your Results
Each treatment lasts for about 30 minutes, and you may resume your usual activities immediately. While many women report improvement after 1 or 2 treatments, we typically recommend a series of 3 treatments, spaced about a month apart, for maximum improvement. The results of ThermiVa can be incredibly long-lasting.
THERMITIGHT
What It Does
ThermiTight uses radiofrequency energy to tone and tighten areas of loose skin on various parts of the body. It's a versatile treatment that can be used on many smaller fat deposits and areas of sagging skin, including:
Upper arms
Abdomen
Flanks
Back
Thighs
Neck and jawline
During a ThermiTight session, your surgeon makes a very small incision at your treatment area. He inserts a thin probe, which emits radiofrequency energy, heating both unwanted fat cells and loose skin, causing them to tighten and leaving firm, toned contours behind. At Destin Plastic Surgery, we use a local anesthetic to keep you comfortable throughout the treatment. Most patients say they experience a sensation of pressure or warmth.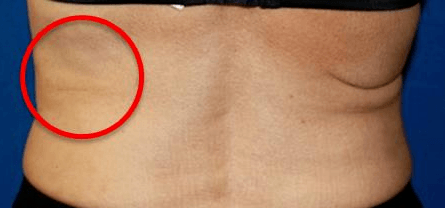 This photo shows the results one patient got from a ThermiTight on one side only.
Your Results
Typically, only a single treatment with ThermiTight is required to achieve good results. During your consultation, Dr. Burden will help you decide which treatment option is appropriate for you.
If you're bothered by larger areas of unwanted fat, liposuction may be a better option.
Dr. William Burden
Founder, Destin Plastic Surgery
Board-certified plastic surgeon Dr. Burden knows that building a distinguished career doesn't happen overnight. He's been serving the community for more than 2 decades, providing personalized aesthetic care and leading the field with pioneering techniques.
State-of-the-Art, Multi-Specialty Surgical Center