Destin Plastic Surgery
4485 Furling Lane
Destin, FL 32541
Phone: (850) 654-1194
Monday–Thursday: 7 a.m.–5 p.m.
Friday 7 a.m.–2 p.m.

Anti Aging Skincare Clinic
4485 Furling Lane
Destin, FL 32541
Phone: (850) 654-8015
Monday–Thursday: 7:30 a.m.–5 p.m.
Friday 7:30 a.m.–2 p.m.

Fees & Financing
Destin Plastic Surgery is committed to making your procedures as affordable as possible with competitive pricing and a range of financing options. Dr. William Burden is highly accomplished and in high demand, attracting patients from across the globe. The fees we charge are very competitive, especially considering the level of technical skill and compassionate care you will receive from Destin Plastic Surgery. If you have questions about the cost of your surgery, please contact us online. Also, be sure to check out our current specials for incredible savings on our most popular treatments!
Dr. Burden is a renowned, board-certified plastic surgeon skilled in face, breast, and body procedures. An innovator and educator in aesthetics for over 25 years, Dr. Burden pioneered "No Scar on the Breast" augmentation. His expertise and compassionate presence provide a rewarding treatment experience from the initial consultation to the final results.
Meet Dr. Burden
Credentials You Can Trust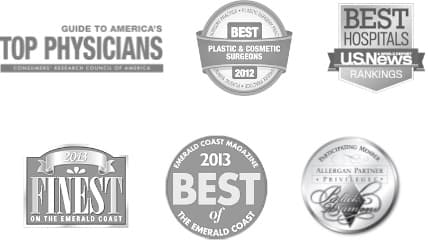 Affordable Financing Options
Plastic surgery is an excellent investment in an individual's well-being. We believe the cost of plastic surgery should not be an obstacle to obtaining a surgery procedure. We can refer you to CareCredit® to help with the cost of your Destin cosmetic surgery procedure.
www.carecredit.com (800) 677-0718
A Note On Fees
One of the most common questions we receive is "What will my surgery cost?"
A precise answer to this question varies from patient to patient and is not possible without a consultation. We are more than happy to discuss price ranges over the phone, but these can vary greatly. The fee quote provided after your consultation will include your surgeon's fees, anesthesia, OR costs, and pre- and post-op visits.
When comparing costs between practices, it is important to keep in mind a few things. Surgeon's fees may vary based on the experience and talent of the surgeon. It is important to consider this when choosing a plastic surgeon in Florida, Mobile or Montgomery, AL and beyond. It is a lifetime investment in your body; research your surgeon's experience thoroughly before making a decision.