Destin Plastic Surgery
4485 Furling Lane
Destin, FL 32541
Phone: (850) 654-1194
Monday–Thursday: 7 a.m.–5 p.m.
Friday 7 a.m.–2 p.m.

Anti Aging Skincare Clinic
4485 Furling Lane
Destin, FL 32541
Phone: (850) 654-8015
Monday–Thursday: 7:30 a.m.–5 p.m.
Friday 7:30 a.m.–2 p.m.

Dermal Fillers
The Anti Aging Skincare Clinic of Destin Plastic Surgery is one of the largest and most experienced providers of facial fillers in the Southeast. We have been enhancing faces, softening wrinkles, and plumping up lips for more than 20 years using fillers such as JUVÉDERM®. Patients visit us in Destin from Fort Walton Beach, Valparaiso, Niceville, Miramar Beach, and throughout the Panhandle for filler injections and other aesthetic treatments. Our injectors have so much experience that we train other physicians and medical personnel who want to replicate our results. Dr. William R Burden, MD, and Bill Edelman, PA-C, are at the forefront of facial enhancement and recognized nationally for their expertise.
Pamper Yourself. You've Earned It. Join Allē℠.
Earn discounts on future skincare and spa procedures such as BOTOX® Cosmetic, KYBELLA®, JUVÉDERM®, and LATISSE® eyelash treatments. Enroll in Allergan's Allē rewards program and begin earning points today. It's free and easy to sign up online.
Learn More
Our Refined Techniques
Our treatment philosophy at Destin Plastic Surgery is to enhance your facial features without creating an "overdone" appearance. This conservative approach ensures we use just enough filler to get the desired results. All too often we are asked to correct an issue that was created by other injectors who overdid the treatment.
Even though we cannot guarantee an absolutely painless procedure, we use local anesthetics to numb areas for injection to minimize discomfort. Dr. Burden has developed advanced techniques for numbing injection sites. Both Dr. Burden and Bill Edelman are very experienced with the advanced numbing techniques they use for injectable treatments. Taking the extra effort brings back happy patients!
Our Expert Injectors
Bill Edelman PA-C, "BOTOX Bill"
Bill Edelman PA-C is a certified physician's assistant and has worked under the supervision of Dr. William Burden in facial surgery for many years. Bill's surgical experience gives him a superior perspective on facial anatomy. Bill is one of the most experienced providers of BOTOX® Cosmetic and JUVÉDERM® in the United States and is often called "BOTOX Bill." He personally performs an estimated 5,000 treatments per year. Patients travel from around the country specifically to have him administer their treatment. As such, Destin Plastic Surgery has been distinguished as a BLACK DIAMOND provider (Top 1%) and has been designated as a national training center by Allergan, the producer of JUVEDERM. This ranks Destin Plastic Surgery as one of the top 1% in volume for the U.S. and one of the top 500 Allergan accounts in the whole world.
Rachel Joseph, PA-C
Rachel is a Physician Assistant who is under the supervision of Dr. Burden and has been formally trained by Allergan Medical Institute, Galderma and Revance. She continues her training at Master Injector courses and strives to stay at the forefront of new advances and procedures in neurotoxins and dermal fillers. She takes pride in the time she spends with patients to give her expert opinion as well as make sure the patients desire is understood.
Dr. William R. Burden, MD, FACS
Dr. William R. Burden, MD, FACS is a trainer and speaker for the Allergan corporation, the makers of BOTOX and JUVÉDERM, as well as Natrelle® breast implants. Dr. Burden's surgical knowledge and years of experience have made him a sought-after speaker and trainer for facial enhancement procedures using BOTOX, JUVÉDERM, VOLLURE, VOLBELLA, and VOLUMA. He has trained surgeons and physicians from Miami to Birmingham, and New Orleans to Nashville. Dr. Burden recently published a book, Advances in Facial Cosmetic Surgery: Your Guide to Achieving the Best Long-Term Results, which was an Amazon Best Seller.
What Are Dermal Fillers?
There are several different types of fillers, but they all share a common goal—to enhance a specific area of the face by creating additional volume. We use dermal fillers that are formulated using hyaluronic acid (HA). This is a material that's produced naturally by the body, so allergic reactions are virtually unheard of.
JUVÉDERM Fillers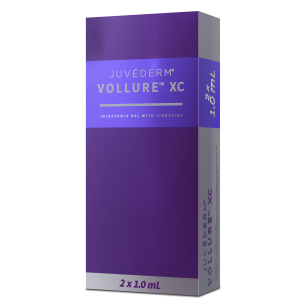 Each filler in the JUVÉDERM product line of HA fillers is specialized for specific facial features.
VOLUMA XC is designed to add volume to your cheeks, giving you a smoother, natural-looking contour and a more youthful look. It is the longest-lasting HA filler available and can last up to 2 years.
VOLLURE XC is designed for the correction of moderate to severe facial wrinkles and folds, such as nasolabial folds. It is the longest-lasting HA filler for this area, lasting up to 18 months.
ULTRA XC and VOLBELLA XC are both designed for lip augmentation. ULTRA XC injections result in plump, natural-looking lips, or they can enhance the fullness of the lips. VOLBELLA XC adds volume for a subtle enhancement and can soften the appearance of lip lines. They can last up to 1 year, longer than any other HA fillers for the lips.
VOLUX™ XC enhances and sculpts your jawline, adding attractive volume to improve facial symmetry and shape. It is the first and only HA filler approved by the FDA to restore definition to the lower face. Results are highly customizable and can last up to a year.
SKINVIVE™ is a unique HA microdroplet injectable that improves the natural moisture and soft texture of the cheeks for supple-looking, hydrated skin. It is the first injectable of its kind to be approved by the FDA. Results last for up to 6 months.
Do You Offer Other Types Of Fillers?
Yes, we offer the following additional HA fillers:
Restalyne® Refyne
Restalyne® Defyne
Restylane® Kysse
RHA® 2
RHA® 3
RHA® 4
The right filler for you depends on your individual needs and cosmetic concerns. Our injectors will recommend the product best suited for your needs.
Can Fillers Be Combined With Other Treatments?
In addition to providing wrinkle-reducing skin care and lip injections for our patients from Destin, Fort Walton Beach, Valparaiso, and beyond, dermal fillers can be combined with BOTOX Cosmetic for a liquid facelift and with other med spa treatments to create remarkable transformations for patients without undergoing surgery.
How Much Do Dermal Fillers Cost?
At Destin Plastic Surgery, the cost of dermal fillers is about $600 to $800 per vial. Some areas may require more filler than others, so prices can vary. The following information can be used as a general guideline for average cost per area:
$650 to $675 for folds around the mouth
$650 to $675 for the lips (may require more at a later date, depending on desired fullness)
$650 for under the eyes
$825 to $850 for the cheek or jawline contour, or chin sculpting
Costs vary from patient to patient, and we will provide a specific price quote before your treatment.
Dr. Burden is a renowned, board-certified plastic surgeon skilled in face, breast, and body procedures. An innovator and educator in aesthetics for over 25 years, Dr. Burden pioneered "No Scar on the Breast" augmentation. His expertise and compassionate presence provide a rewarding treatment experience from the initial consultation to the final results.
Meet Dr. Burden
Credentials You Can Trust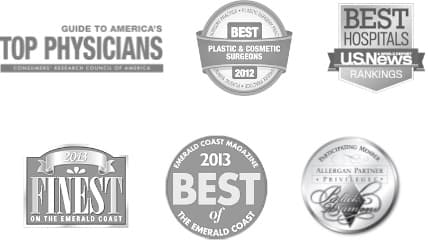 Frequently Asked Questions
Who Is A Candidate For Dermal Fillers?
The best candidates for filler injections are patients who wish to:
Diminish or eliminate lines around the mouth, eyes, or other areas of the face
Add volume to their upper and lower lips
Smooth lines and indentations under the eyes
Enhance the cheekbone area
Improve lost definition in the jawline
Some patients want to address multiple areas during a single treatment session.
What Are The Benefits Of Using Fillers?
Filler injections create a more youthful, healthy appearance by adding volume to the areas of the face that have become lax or droopy.
How Long Do Dermal Filler Results Last?
When used to treat lines or indentations around the eyes and other areas of the face, results are usually maintained for 6 to 9 months, although some patients may see results last as long as a year. When used to add volume to the lips, results last about 5 to 9 months. SKINVIVE typically leaves the skin looking hydrated for up to 6 months. JUVEDERM VOLUX XC can last up to a year, while JUVEDERM VOLLURE XC results can last up to 18 months, and the results of JUVEDERM VOLUMA XC injections can last up to 24 months.
How Long Does A Treatment Session Take?
In most cases, a procedure takes 45 minutes or less.
Do Dermal Filler Injections Hurt?
Sensitivity varies among patients, and some areas of the face are naturally more sensitive than others. However, ice and numbing creams can be used to ensure that treatments are administered quickly with relatively little pain. The lips can be numbed completely prior to treatment, if preferred, using several tiny injections. Also worth noting is that the fillers themselves are pre-mixed with lidocaine, a numbing agent, to minimize discomfort.
When Can I Schedule A Dermal Filler Appointment?
Appointments are available 5 days a week for your convenience.
You can request an appointment using the online form or call our practice at (850) 654-1194.
A Reputation Built On Results
Had partial facelift 10 yrs ago at age 65 - Dr. Burden is the best of the best- his entire staff is...
3 months ago Dr. Burden performed facelift, blepharoplasty and brow lift procedures on me, and I am...
5'4, 123lbs & was a 32A cup before my BA! 1 day post-op 485cc SSF I am keeping my journey updated with...
5'4, 123lbs & was a 32A cup before my BA! 1 day post-op 485cc SSF I am keeping my journey updated with...