Destin Plastic Surgery
4485 Furling Lane
Destin, FL 32541
Phone: (850) 654-1194
Monday–Thursday: 7 a.m.–5 p.m.
Friday 7 a.m.–2 p.m.

Anti Aging Skincare Clinic
4485 Furling Lane
Destin, FL 32541
Phone: (850) 654-8015
Monday–Thursday: 7:30 a.m.–5 p.m.
Friday 7:30 a.m.–2 p.m.

Labiaplasty
Labiaplasty, also called labial reduction, is becoming increasingly popular for women who feel physical or emotional discomfort due to large or elongated inner labia (labia minora). Dr. William R. Burden of Destin Plastic Surgery performs labiaplasty procedures for women along the Gulf Coast from New Orleans, Mobile, and Pensacola to Panama City, Tallahassee, Birmingham, Atlanta, and even overseas.
Years ago, requests for the labiaplasty (reduction of the vaginal labia size) procedure were sporadic—maybe 2 requests per year. As women have become more aware of the possibility of changing the size and shape of the labia, their requests for the procedure have risen dramatically. This prompted Dr. Burden to utilize a newer technique that significantly reduces the chance of painful scarring and maintains a more natural appearance. He was the first in the area to use this technique.
Dr. Burden is a renowned, board-certified plastic surgeon skilled in face, breast, and body procedures. An innovator and educator in aesthetics for over 25 years, Dr. Burden pioneered "No Scar on the Breast" augmentation. His expertise and compassionate presence provide a rewarding treatment experience from the initial consultation to the final results.
Meet Dr. Burden
Credentials You Can Trust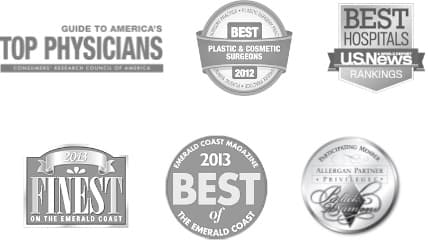 Reasons for Labiaplasty
Many women have concerns about the appearance of their vaginal area. The labia minora (inner vagina labia/lips) can be prominent and extend beyond the outer labia. Labial hypertrophy (large labia minora) may develop during puberty or following childbirth. Sometimes trauma to the labia minora leaves them misshapen. Finally, some women who have undergone a labiaplasty elsewhere may require a revision.
Dr. Burden performs vaginal procedures using advanced techniques to improve both the aesthetics and any functional issues of the inner labia. Women choose this procedure to:
Increase self-confidence
Improve the appearance of misshapen labia
Reduce physical discomfort during exercise and intercourse
Look more attractive in bathing suits, yoga pants, and other fitted clothing
Complementary Procedures
Women who are interested in labiaplasty may choose to combine it with one or a combination of the following procedures:
Hoodectomy removes excess skin from around the clitoris that may cause discomfort.
Lipoinfiltration of the outer labia provides a plump, more youthful appearance through injections of the patient's own fat.
Rejuvenation of the pubic area reduces sagging skin and excess fat that may collect in this area.
Vaginal Rejuvenation, tightens the vagina and surrounding tissues.
Labiaplasty may also be performed as part of a Mommy Makeover for a more comprehensive renewal of a woman's body after pregnancy and childbirth. Occasionally, we may recommend nonsurgical ThermiVa® to help tighten and minimize the labia minora and other structures of the genitals.
Specialized Technique
Dr. Burden performs labiaplasty using a specialized technique that preserves sensation in the labia minora. Many non-plastic surgeons perform this procedure by simply "trimming" the labia. This technique results in odd-shaped labia with a "stump-like" appearance. The amputation technique used by others can result in a loss of sensation or painful areas along the labia. Dr. Burden approaches labiaplasty surgery from a cosmetic and functional standpoint in which the overall appearance and sensation are considered. He uses small flaps to reduce the size of the labia minora, enabling him to greatly enhance the overall appearance while, in most cases, preserving sensation.
Recovery Time
Patients may experience mild swelling and discomfort for the first few weeks after labia reduction surgery. Most patients are ready to return to work that is not strenuous after just a few days. High-intensity exercise, intercourse, and impact sports must be delayed for about 6 weeks.
Results
By performing a simple cosmetic procedure such as a labiaplasty, Dr. Burden can significantly improve the overall appearance and function of the labia. Women frequently state it is much easier to wear tight-fitting clothing, and the irritation and discomfort previously felt with exercise are noticeably reduced if not eliminated.
Labiaplasty FAQ
Female cosmetic surgery of the genitals continues to increase in popularity throughout the U.S. and other countries. Because women typically don't talk about these concerns, even with close friends, they often have many questions. Here are answers to some questions Dr. Burden is commonly asked.
Why do women want to have labia reduction?
Many women have voiced concern over having elongated labia, which causes problems in form and function. That is, if the labia are significantly elongated, they can show through clothing, get in the way of exercise, be uncomfortable to sit on, and interfere with sexual intercourse. By reducing the size of the labia, these problems can be improved or altogether corrected.
I've had three children and am very self-conscious about the way my labia look. What can you do?
Sometimes childbirth causes the labia to become elongated. The labia commonly are torn during birth and become misshapen. A labiaplasty procedure can reduce the size of the labia and repair the defect from previous trauma.
Is it better to choose a plastic surgeon or an OB/GYN for genital cosmetic surgery?
Either surgical specialist should have the qualifications for the surgery you are interested in undergoing. You want a surgeon who performs the procedure on a routine basis and can handle problems that may occur. The surgeon should be able to show you before-and-after pictures, describe the procedure and what you should expect preoperatively and postoperatively, and provide you with references.
What's the difference between a labiaplasty and a vaginoplasty?
A labiaplasty (labia reduction) changes the shape and size of the labia minora (the inner vaginal labia). A vaginoplasty (vaginal rejuvenation) changes the shape of the vaginal orifice (opening). Commonly after a woman has a delivery, the vagina and pelvic floor become stretched and sometimes scarred from the trauma of birth or having undergone an episiotomy. This scar tissue is removed, and the pelvic floor muscles are realigned.
Will labia reduction have any effect (either negative or positive) on my sensitivity during sexual intercourse?
Our patients have informed us that they have not had a problem with sensitivity during sexual intercourse after having undergone a labiaplasty. They note an improvement in function in that the labia do not get in the way or cause a problem with intercourse.
For more information about labiaplasty procedures, call our office today at (850) 654-1194 or request a consultation. Located in Destin, Florida, we provide first-class services for patients from surrounding cities like Panama City and Pensacola, as well as neighboring states and international locations.
A Reputation Built On Results
Had partial facelift 10 yrs ago at age 65 - Dr. Burden is the best of the best- his entire staff is...
3 months ago Dr. Burden performed facelift, blepharoplasty and brow lift procedures on me, and I am...
5'4, 123lbs & was a 32A cup before my BA! 1 day post-op 485cc SSF I am keeping my journey updated with...
5'4, 123lbs & was a 32A cup before my BA! 1 day post-op 485cc SSF I am keeping my journey updated with...