Destin Plastic Surgery
4485 Furling Lane
Destin, FL 32541
Phone: (850) 654-1194
Monday–Thursday: 7 a.m.–5 p.m.
Friday 7 a.m.–2 p.m.

Anti Aging Skincare Clinic
4485 Furling Lane
Destin, FL 32541
Phone: (850) 654-8015
Monday–Thursday: 7:30 a.m.–5 p.m.
Friday 7:30 a.m.–2 p.m.

Eyelid Surgery
Many people would agree that a few wrinkles around the eyes add expression to their appearance; however, dark circles, droopy eyelids and bags convey an undesirable fatigued appearance. Significant crow's feet, forehead wrinkles, and "11" furrows are not kind to ones appearance. That is why thousands of men and women have chosen eyelid surgery at Destin Plastic Surgery in Florida to get a rested, brighter and more youthful appearance.
Dr. W. R. Burden is a pioneer in minimally invasive facial surgery having performed the University of Florida's first endoscopic brow lift in 1994. He later performed Northwest Florida's first endoscopic brow lift in 1995 in Fort Walton Beach. Since then he has performed thousands of facial procedures, he has developed advanced techniques of lower eyelid and facial surgery, is currently writing papers on facial surgery, and has co-authored articles on rejuvenating the area around the eyes.
For more information about eyelid surgery, request a consultation online to meet with Dr. Burden or call our office at (850) 654-1194. We provide first-class services for patients choosing eyelid surgery from surrounding cities such as Panama City and Pensacola, FL; Mobile, Enterprise, and Gulf Shores, AL as well as cities in other neighboring states; and international locations.
Dr. Burden is a renowned, board-certified plastic surgeon skilled in face, breast, and body procedures. An innovator and educator in aesthetics for over 25 years, Dr. Burden pioneered "No Scar on the Breast" augmentation. His expertise and compassionate presence provide a rewarding treatment experience from the initial consultation to the final results.
Meet Dr. Burden
Credentials You Can Trust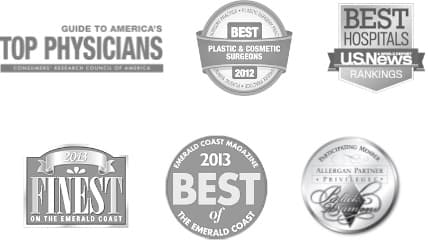 Surgery Is Not Always The Answer
Non-surgical treatments such as BOTOX® Cosmetic and injectable fillers including Restylane® and JUVÉDERM® Injectable Gel, can help in the early stages of the aging process. Many men often prefer BOTOX injections because the results are subtler. Although these treatments are not permanent, crow's feet, furrows, and dark circles can be softened and often eliminated with these treatments.
Destin Plastic Surgery has been a national leader in non-surgical facial treatments since 1998. We are a Diamond rated office for BOTOX and JUVÉDERM, as well as a training facility for Allergan, the makers of BOTOX. There is no other facility in the region with comparable experience.
When Surgery Is The Answer
Surgical procedures to reshape the area around the eyes can help the more advanced signs of aging.
Brow Surgery (Endoscopic Brow Lift)
In explaining the brow lift concept to patients, we give the following analogy: Think of the eye as a "window," the upper eyelid as the "curtain" and the brow as the "curtain rod." If the "curtain rod" is a quarter or halfway down the window the curtain begins to puddle at the bottom of the window. You wouldn't cut off the "curtain." You would raise the "curtain rod" to the proper position and then tailor in the "curtain" as indicated. This concept of total or structural rejuvenation of the area is appealing to our patients. Elevating the outer brow and correcting the outer upper eyelid hooding restores facial harmony and prevents the operated-on appearance.
Lower Eyelid Surgery
A critical portion of the aging process involves the cheek pad (mid-face). As the cheek pad falls and begins to droop, the lower eyelid takes on an elongated appearance and the lower eyelids take on a puffy, baggy appearance. The lower eyelid surgery (blepharoplasty) technique developed by Dr. Burden addresses this. Note the improvement following surgery in the pictures below.
Upper Eyelid Surgery
The upper eyelid is an attractive structure that has a beautiful oily sheen and a darker hue than the surrounding skin. When this area begins to appear droopy and puffy, a person appears tired and aged. Removal of the periocular fat of the upper eyelid will improve the "puffiness" and removal of the skin will improve the "droopy" appearance.
Recovery From Eyelid Procedures
In general, upper and lower eyelid surgery can be performed as an outpatient procedure. The recuperation period is not prolonged with most men and women alike returning to work between 7 and 14 days. Postoperative pain is well tolerated, requiring a short-term course of narcotic pain pills.
Dr. William R. Burden, MD, FACS is known for his experience and dedication to staying in the forefront of leading technology in plastic surgery. Dr. Burden not only treats many patients from Panama City, Pensacola, Fort Walton Beach, Tallahassee, Dothan, Atlanta, and Birmingham but also from around the world. Many people travel from Europe, South America and Asia to Destin to seek out his services.
A Reputation Built On Results
Had partial facelift 10 yrs ago at age 65 - Dr. Burden is the best of the best- his entire staff is...
3 months ago Dr. Burden performed facelift, blepharoplasty and brow lift procedures on me, and I am...
5'4, 123lbs & was a 32A cup before my BA! 1 day post-op 485cc SSF I am keeping my journey updated with...
5'4, 123lbs & was a 32A cup before my BA! 1 day post-op 485cc SSF I am keeping my journey updated with...
Tracing facial plastic surgery's history from nip-and-tuck techniques to advanced approaches using fiber optics and tiny incisions, Dr. Burden provides a must-have guide for anyone considering facial cosmetic surgery. The conversational Q&A format presents valuable information in a way that's easy to understand.
Get Your Facial Cosmetic Surgery Guide