Destin Plastic Surgery
4485 Furling Lane
Destin, FL 32541
Phone: (850) 654-1194
Monday–Thursday: 7 a.m.–5 p.m.
Friday 7 a.m.–2 p.m.

Anti Aging Skincare Clinic
4485 Furling Lane
Destin, FL 32541
Phone: (850) 654-8015
Monday–Thursday: 7:30 a.m.–5 p.m.
Friday 7:30 a.m.–2 p.m.

BOTOX® Cosmetic
The professionals at The Anti Aging Skincare Clinic of Destin Plastic Surgery provide experience, results, and honesty for your BOTOX Cosmetic treatment. BOTOX and Dysport® help men and women from Fort Walton Beach, Valparaiso, and Pensacola, FL, and beyond diminish the appearance of lines and wrinkles, which are caused by everyday muscle movements of the face. It is most typically used to treat lines around the outside of the eyes, between the eyes, and on the forehead. However, it can also be used to lift the brows, correct a down turned mouth, diminish lines on the nose, lips, and neck, and treat excessive underarm perspiration.
Pamper Yourself. You've Earned It. Join Allē℠.
Earn discounts on future skincare and spa procedures such as BOTOX® Cosmetic, KYBELLA®, JUVÉDERM®, and LATISSE® eyelash treatments. Enroll in Allergan's Allē rewards program and begin earning points today. It's free and easy to sign up online.
Learn More
Our Expert Injectors
Bill Edelman PA-C
Bill Edelman PA-C is a certified physician's assistant and works under the supervision of Dr. William Burden. Mr. Edelman is one of the most experienced providers of BOTOX Cosmetic and JUVÉDERM® in the United States. He personally performs an estimated 5,000 treatments per year. Patients travel from around the country specifically to have him administer their treatment.
Destin Plastic Surgery is one of the top 500 Allergan accounts in the whole world.
"BOTOX® BILL":
The Art Of Perfectionism
Our own "BOTOX Bill" Edelman has mastered the craft of cosmetic injectables. His knowledge of facial anatomy and eye for flawless results have made him the injector of choice for men and women throughout the Southeast.
Meet Bill Edelman, PA-C
Due to his vast experience and the quality of injections Mr. Edelman administers, Destin Plastic Surgery has been distinguished as a BLACK DIAMOND provider by Allergan Corporation, the makers of BOTOX Cosmetic. Black Diamond status designates our office as the top 1% in the entire country for volume and experience with BOTOX Cosmetic and JUVÉDERM. No other practice in Destin or the surrounding region has achieved this status and it is directly attributed to the many referrals Bill Edelman has received for his injectable experience, patient results, and honesty. Additionally, Destin Plastic Surgery has been designated as a national physician training center by Allergan Corporation. Dr. Burden recently attended a speakers' training course through Allergan and is one of only a few physicians in the country that has been qualified to lecture on BOTOX Cosmetic, JUVÉDERM, and LATISSE®.
Rachel Joseph, PA-C
Rachel Joseph is a Physician Assistant who is under the supervision of Dr. Burden and has been formally trained by Allergan Medical Institute, Galderma and Revance. She continues her training at Master Injector courses and strives to stay at the forefront of new advances and procedures in neurotoxins and dermal fillers. She takes pride in the time she spends with patients to give her expert opinion as well as make sure the patients desire is understood.
Who Is A Candidate For BOTOX?
Women and men choose BOTOX to address many concerns, both cosmetic and physical, including:
Lines and wrinkles around the eyes, forehead, lips, mouth, and neck
Excessive underarm perspiration
Migraine headaches
What Are The Benefits Of BOTOX?
Allows for a more youthful, healthy appearance by relaxing the muscles that cause facial lines to occur. In some cases, patients also receive the added benefit of a slight brow lift.
Minimizes the occurrence of migraine headaches.
Diminishes the production of perspiration.
How Much Do BOTOX And Dysport Treatments Cost In Destin, FL?
At Destin Plastic Surgery, BOTOX and Dysport are priced per unit used in specific treatment areas for our patients from Fort Walton, Pensacola, and other areas. It is best to come in for a free consultation to see what the cost would be to treat your specific areas. The following can be used as a general guideline for average cost per area:
$120 to $360 for crow's feet lines around the eyes
$180 to $300 for frown lines (glabellar lines) between eyebrows
$120 to $360 for the forehead
$60 to $120 for nasalis "bunny" lines on nose
$120 each for the upper and lower lip
$72 for a smile lift at the corners of the mouth
$240 for TMJ discomfort and facial slimming
$48 to $72 for a lip flip
$240 to $500 for the neck
$1,200 for the armpits (excessive sweating)
How Do I Know How Much BOTOX I Need?
There are a variety of factors that affect how much BOTOX patients will need, including:
Gender: Typically, men have larger facial muscles compared to women so they generally need more BOTOX.
Facial muscle strength: People have varying degrees of facial muscle strength which are characteristically developed through repetition of facial actions such as frowning, smiling, squinting, or pursing the lips. Individuals who are more prone to these repetitions will require more BOTOX.
Metabolism: Everyone has differing metabolism levels, which can affect how long BOTOX will last. On average, BOTOX lasts for 3 to 4 months.
Aesthetic goals: As a patient, you can choose to maintain facial movement (partial muscle functioning) or a more motionless result which would require more BOTOX.
Wrinkle severity: The more severe or deep the wrinkle, the more BOTOX will be needed for effective treatment.
Face shape and size: Patients with a larger forehead will require more BOTOX units compared to those with a smaller forehead.
Is There A Recovery Period?
BOTOX and Dysport treatments do not require downtime so you can return to work and your other everyday activities right away.
What To Avoid After Treatment
For optimal results, there are a few thing to avoid after a BOTOX or Dysport treatment. We recommend the following precautions:
No strenuous exercise for 24 hours.
Avoid lying down and bending over for 3 to 4 hours.
Don't rub, touch, or put pressure on the treated area until the next day.
When Will You See Results?
BOTOX and Dysport results develop gradually as the contractions of treated muscles subside and lines and wrinkles smooth out. Typically, BOTOX takes 3 to 5 days for improvements to begin; Dysport takes about 2 to 3 days.
Can BOTOX And Dysport Injections Be Combined With Other Treatments?
Certainly. We often combine these treatments to complement or even improve the results of other nonsurgical treatments, including:
Dermal fillers to smooth away wrinkles, enhance the lips, and add and restore facial volume. When performed together, fillers and BOTOX are sometimes called a liquid facelift.
KYBELLA® to reduce submental fat (double chin) with a series of injections.
Laser hair removal to get rid of hair on the face and body. Multiple sessions are needed to treat the hairs when they are in an active growth cycle.
BOTOX For Men
Men are increasingly interested in looking as young as they feel. Nonsurgical treatments, such as BOTOX and dermal fillers help minimize forehead wrinkles, vertical "worry lines" between the eyes, and crow's feet around the outer edge of the eyes.
BOTOX can also be a life-changing treatment for men who suffer from excessive underarm sweating. The condition, called hyperhidrosis, can cause embarrassment in social or professional situations and ruin clothing stained with sweat. BOTOX is approved by the FDA to treat hyperhidrosis by temporarily minimizing underarm sweating when injected in the area of the sweat glands.
Our History
In 1998, Dr. Burden began using BOTOX for the non-surgical cosmetic treatment of wrinkles of the forehead and around the eyes. He was the first plastic surgeon in the area to do this. He developed his own dilution standards and injection techniques. His understanding of the facial anatomy helped attain a high degree of precision in his results.
Bill Edelman joined Destin Plastic Surgery in 1998. It was apparent to Dr. Burden early on that Bill was gifted in his ability to perform the treatments. Like Dr. Burden, he had experience with facial anatomy in surgery and could relate the results that he wanted to achieve with precision treatments with BOTOX® Cosmetic, fillers and collagen.
As technology evolved, other products became available. Dr. Burden and Mr. Edelman stayed on the forefront, testing and implementing them when they became confident with the results. They were among the first to administer Restylane® and JUVÉDERM upon FDA approval. As the client base grew, Bill Edelman devoted his full time to injectables and is available for patient appointments Monday through Friday.
Doctors, nurses, mothers and fathers as well as, models and celebrities from Atlanta and Miami seek out treatments from Mr. Edelman. He and the staff at Destin Plastic Surgery have been able to accomplish this through experience, results, and honesty. Mr. Edelman's superior results keep the patients returning and bring in new clients. His honesty assures you that you are not receiving an unnecessary treatment. And his experience is unmatched in this region. See for yourself why people travel from around the world to Destin Plastic Surgery.
Dr. Burden is a renowned, board-certified plastic surgeon skilled in face, breast, and body procedures. An innovator and educator in aesthetics for over 25 years, Dr. Burden pioneered "No Scar on the Breast" augmentation. His expertise and compassionate presence provide a rewarding treatment experience from the initial consultation to the final results.
Meet Dr. Burden
Credentials You Can Trust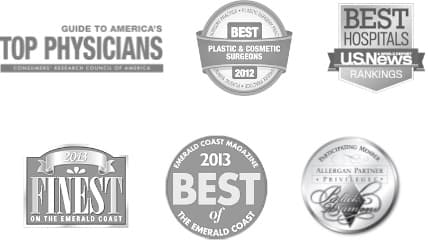 Frequently Asked Questions About BOTOX & Dysport
Are BOTOX And Dysport Safe?
When administered by a trained and experienced provider who follows the manufacturer's best practices, both products are very safe. BOTOX Cosmetic and Dysport have been FDA approved for cosmetic use for over 10 years. To ensure your results are natural looking and minimize the possibility of side effects, it's important to choose a provider with specialized BOTOX expertise like our own Bill Edelman.
How Long Does The Treatment Take?
In most cases, a BOTOX or Dysport injection takes 15 minutes or less.
Is The Treatment Painful?
Sensitivity varies among patients, and some areas of the face are naturally more sensitive than others. However, ice and numbing creams can be utilized to ensure that treatments are administered quickly with relatively little pain.
How Long Do BOTOX Results Last?
When used to treat lines in the facial area, results last an average of 3 to 4 months; however, some patients maintain results for up to 7 months.
When used to treat the underarms, results typically last for approximately 6 to 9 months.
How Can I Make My BOTOX Results Last?
The best way to get the most out of your BOTOX treatment is to follow a consistent maintenance schedule and come in for treatments before you notice lines beginning to form again.
At What Age Should You Start Getting BOTOX?
People typically start getting BOTOX treatments when dynamic lines and wrinkles start to become noticeable. More recently, people as young as their mid-to-late 20s have been getting these treatments proactively, sometimes called "preventative BOTOX." Early use of BOTOX can help delay dynamic wrinkles from forming or stop them from becoming deeply etched into the skin.
Are Dermal Fillers Or BOTOX Better?
While both are injectable wrinkle treatments, dermal fillers and BOTOX work in different ways and have different uses. One is not better than the other. BOTOX treats dynamic wrinkles that are caused by the contractions of facial muscles. Fillers treat static wrinkles by filling out the skin. They are also used for deeper folds like smile lines (nasolabial folds), hollows under the eyes, sunken cheeks, and other areas in need of volume. We often combine BOTOX and filler treatments because many people benefit from both types of improvement.
When Can I Schedule A BOTOX Or Dysport Appointment?
At The Anti Aging Skincare Clinic of Destin Plastic Surgery, BOTOX and Dysport appointments are available 5 days a week for your convenience.
For more information about BOTOX or Dysport, request a free skincare consultation online or call our office at (850) 654-1194. Located in Destin, Florida, we provide first-class services for patients who want BOTOX in Valparaiso, Fort Walton Beach, and Pensacola, FL, as well as those from neighboring cities and states and international locations.
A Reputation Built On Results
3 months ago Dr. Burden performed facelift, blepharoplasty and brow lift procedures on me, and I am...
5'4, 123lbs & was a 32A cup before my BA! 1 day post-op 485cc SSF I am keeping my journey updated with...
5'4, 123lbs & was a 32A cup before my BA! 1 day post-op 485cc SSF I am keeping my journey updated with...
5'4, 123lbs & was a 32A cup before my BA! 1 day post-op 485cc SSF I am keeping my journey updated with...