Destin Plastic Surgery
4485 Furling Lane
Destin, FL 32541
Phone: (850) 654-1194
Monday–Thursday: 7 a.m.–5 p.m.
Friday 7 a.m.–2 p.m.

Anti Aging Skincare Clinic
4485 Furling Lane
Destin, FL 32541
Phone: (850) 654-8015
Monday–Thursday: 7:30 a.m.–5 p.m.
Friday 7:30 a.m.–2 p.m.

Liposuction
Destin Plastic Surgery specializes in liposuction (also called body contouring) for men and women from the Pensacola and Panama City areas and beyond. Liposuction involves the destruction of the fat cell and elimination of the fat cell from the body. The destruction of the fat cell can be in the form of high negative pressure, ultrasonic energy, laser energy, or mechanical energy.
Liposuction

Before & After Photos
WARNING:
This feature contains nudity. Please click OK to confirm you are at least 18 years of age and are not offended by such material.
What Is Power-Assisted Liposuction?
Power-assisted liposuction uses a high negative pressure similar to the suction-assisted technique and the mechanical energy of a reciprocating cannula. The combination of the 2 energies has been shown to give a good result with minimal-to-no contour irregularities. This technique is particularly useful for high volume liposuction. The cannulas can be bent to improve contouring around a curve and minimize the number of access incisions needed. Smaller cannulas can be used to minimize the size of the incisions. All things considered, this form of liposuction is very gratifying to the surgeon and the patient, in that small incisions placed strategically in well-hidden places can give a good contour, which is apparent in a relatively short period of time following the procedure.
Should I Get Liposuction?
Liposuction-assisted body sculpting is not a substitute for weight loss. Prior to undergoing liposuction, overweight patients are advised to establish a weight loss program including diet and exercise that they stick to after surgery. Three things should be accomplished prior to liposuction:
Lifestyle change: Maintaining a sedentary lifestyle in which you eat and drink without discretion will result in failure of your surgery.
Diet change: A healthy diet will not only maintain the surgical results, but also improve your overall health.
Exercise: This is an essential element of maintaining a healthy lifestyle.
These 3 elements should be in place prior to body contouring surgery and maintained following the surgery.
If you're interested in neck liposuction, you may also want to consider a non-surgical alternative called KYBELLA®. This injectable treatment is meant to reduce "submental fat," also called a double chin. Your surgeon can determine whether you are a good candidate.
Dr. Burden is a renowned, board-certified plastic surgeon skilled in face, breast, and body procedures. An innovator and educator in aesthetics for over 25 years, Dr. Burden pioneered "No Scar on the Breast" augmentation. His expertise and compassionate presence provide a rewarding treatment experience from the initial consultation to the final results.
Meet Dr. Burden
Credentials You Can Trust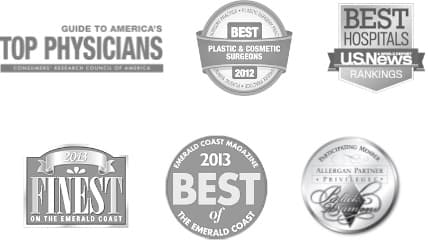 What Does Liposuction Do?
Liposuction is an excellent procedure for removing excess localized fat. It is, however, a very poor procedure to treat obesity. Many people, despite maintaining a good diet and exercise regimen, will still have areas of adipose (fat) which do not respond to diet and exercise. Men and women tend to localize fat to specific areas for anatomical reasons. For women, it's the hips, outer thighs, posterior thighs and inner thigh; men localize fat in their "love handles" and abdomen.
In our body, there is a superficial layer of fat that is virtually everywhere, even in our eyelids. Additionally, there is also a deep layer of fat. The deeper layer of fat is our "storage layer." This deep layer gives us our familial characteristics. If we gain weight, these problem areas tend to enlarge first and unfortunately, when we lose weight it tends to be the last area to reduce in size. The object of liposuction is to remove this "deep layer of fat." By removing the deep layer of fat, we can improve the contour of the abdomen, love handles, hips, and thighs.
Unfortunately liposuction has minimal, to no, effect on skin tone. If the skin tone over the area that is to be treated is poor, this is usually evidenced by loose "hanging" skin and stretch marks, a procedure that removes the excess skin, such as a tummy tuck, may also be needed to improve the contour. Dr. Burden will determine at your consultation what procedures will need to be done to get you the best results.
What Is Liposuction Recovery Like?
There is generally some bruising associated with liposuction, and this can vary significantly from person to person. Pain is generally well tolerated following liposuction and will also vary from individual to individual. In general, you will be sore and tender for the first 48 to 72 hours, after which you will find that your activities will become less and less limited due to the tenderness. Within 2 to 3 weeks, most people return to their normal activities. Within 4 to 6 weeks, most people can return to their usual exercise routine. The swelling from the liposuction may take as long as 6 months to completely resolve. In general, 80% of the swelling resolves within the first 6 to 8 weeks.
After a person undergoes liposuction, support garments are worn for several weeks. These support garments are necessary to allow the overlying superficial fat and skin to heal back and heal in the appropriate position. The garments also help to decrease the post surgical swelling.
See why people travel to Destin Plastic Surgery from Mobile, Dothan, Gulf Shores, and other Alabama communities.
Learn More
Model
What Can I Expect For My Liposuction Results?
Immediately after undergoing liposuction, you may notice that there has been no weight loss or, even a slight weight gain. This is due to fluids administered during the surgical procedure. As time passes, your weight will decrease as your body eliminates these fluids.
Liposuction will improve your body contour and decrease the amount of adipose in the areas that are treated. If you overeat, and do not maintain a healthy diet and exercise regimen, you will gain weight just as you did before the procedure.
Dr. William R. Burden, MD, FACS is known for his experience and dedication to staying in the forefront of leading technology in plastic surgery. Dr. Burden not only performs liposuction for patients from Panama City, Pensacola, Fort Walton Beach, Tallahassee, Dothan, Atlanta, and Birmingham but also from around the world. Many people travel from Europe, South America and Asia to Destin to seek out his services.
For more information about liposuction, request a consultation online or call our office in Destin, Florida, at (850) 654-1194. Dr. Burden is committed to providing first-class services and natural-looking results for every procedure he performs, including liposuction.
A Reputation Built On Results
Had partial facelift 10 yrs ago at age 65 - Dr. Burden is the best of the best- his entire staff is...
3 months ago Dr. Burden performed facelift, blepharoplasty and brow lift procedures on me, and I am...
5'4, 123lbs & was a 32A cup before my BA! 1 day post-op 485cc SSF I am keeping my journey updated with...
5'4, 123lbs & was a 32A cup before my BA! 1 day post-op 485cc SSF I am keeping my journey updated with...