Destin Plastic Surgery
4485 Furling Lane
Destin, FL 32541
Phone: (850) 654-1194
Monday–Thursday: 7 a.m.–5 p.m.
Friday 7 a.m.–2 p.m.

Anti Aging Skincare Clinic
4485 Furling Lane
Destin, FL 32541
Phone: (850) 654-8015
Monday–Thursday: 7:30 a.m.–5 p.m.
Friday 7:30 a.m.–2 p.m.

No Scar on the Breast® Incision
No Scar on the Breast® Incision
Importance Of Choosing Your Surgeon Carefully
Because fiber-optic endoscopic technology is a recent advance and requires specialized training and skill to use, you may find that few surgeons offer breast augmentation using the transaxillary (underarm) technique. Surgeons who are unfamiliar with or unable to perform this procedure tend to steer patients away from the underarm technique even though it is well suited to most patients and types of breast implants. For this reason alone, it's important to choose a surgeon such as Dr. Burden who regularly performs this type of surgery.
Dr. Burden is a renowned, board-certified plastic surgeon skilled in face, breast, and body procedures. An innovator and educator in aesthetics for over 25 years, Dr. Burden pioneered "No Scar on the Breast" augmentation. His expertise and compassionate presence provide a rewarding treatment experience from the initial consultation to the final results.
Meet Dr. Burden
Credentials You Can Trust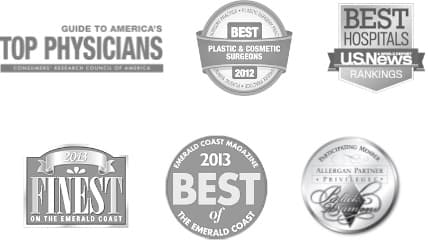 Our No Scar On The Breast Specialist
When you choose Destin Plastic Surgery for your breast augmentation, you can be confident that your procedure will be performed by Dr. William Burden, an expert in the No Scar on the Breast technique.
One of the most common concerns women have about breast augmentation is the tell-tale scars it leaves behind. Dr. Burden pioneered and perfected an innovative breast augmentation technique called, "No Scar on the Breast®" technique that leaves only a tiny scar in the crease under each arm. He has made this procedure available to women around the country and around the world. Miss USA and Miss America contestants, Playboy models, country music performers, and bathing suit models to mention a few, have had their procedures performed at Destin Plastic Surgery.
Dr. Burden, an experienced, innovative plastic surgeon, makes it possible to have beautiful, natural-looking breast augmentation results with No Scar on the Breast. To get started, request a consultation online or call our office at (850) 654-1194. Located in Destin, Florida, we provide first-class services for patients from nearby communities such as Pensacola and Panama City, FL; Mobile, AL; throughout the country; and international locations.
Our Specialized Technique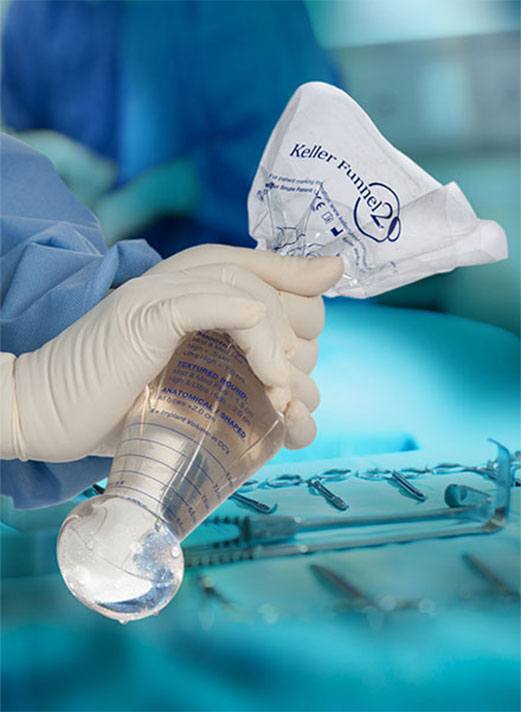 When performing breast augmentation with the No Scar on the Breast technique, Dr. Burden inserts a narrow fiber-optic camera, called an endoscope, through a small incision in a natural crease of the underarm. The endoscope allows the surgeon to see inside the surgical area on a monitor as he creates a pocket for the breast implant beneath the breast. The magnified image enables the surgeon to clearly see the surgical field and create a pocket that precisely fits the implant while minimizing bleeding.
Dr. Burden also uses an innovative device called a Keller Funnel® to insert the implant into the pocket without directly touching it. The Keller Funnel not only makes it easier and safer to place silicone implants through the shortest possible incision, but it also minimizes the risk of infection.
No Scar On The Breast (Transaxillary) Incision
Note the well-healed incision (right) that is "hidden" in the crease of the armpit and barely visible 3 months after surgery using the No Scar on the Breast technique.

Advantages Of The Transaxillary Technique
Dr. Burden understands that most women considering breast augmentation want a natural look. Women including models, celebrities, and professional athletes travel from around the world to for the transaxillary technique performed by our renowned plastic surgeons. Advantages of this technique include:
No scar on the breast. Incisions placed beneath the breast are visible in string bikinis. Incisions around the areola are visible when topless. This technique leaves no evidence of surgery on the breast.
Incisions are well hidden. The incision is placed in one of the natural creases in the underarm. If the scar is noticeable at all, most people don't associate a scar in the underarm with breast augmentation.
Attractive, natural-looking results. The armpit incision enables us to insert the breast implants beneath the chest muscle in an innovative "dual plane" placement. This placement provides a full, soft, natural breast shape especially along the lower portion of the breast because the upper portion of the implant is hidden beneath the chest muscle and the lower portion lies directly beneath the breast tissue.
Option of either silicone or saline implants. While other surgeons often limit patients to saline implants for the transaxillary approach, we offer the option of silicone as well. In fact, we routinely place silicone implants through the armpit and have been doing so much longer than other surgeons.
Enhanced recovery. When placing breast implants under the chest muscle, the transaxillary technique may make recovery easier than other techniques as the chest muscle can be "lifted" to insert the implant instead of being cut. Breast tissue is also not cut with this technique.
Optimal incision healing. Incisions that are not under tension typically heal most cleanly and rapidly. When the incision is around the areola or in the breast crease, the breast implant can create outward pressure (tension); this is not the case with the armpit incision.
Lower risk of infection. The transaxillary technique completely avoids the breast glands, which may contain bacteria and cause infection. Use of the Keller Funnel enables the breast implants to be placed without direct contact, further reducing the risk of infection.
See why people travel to Destin Plastic Surgery from Mobile, Dothan, Gulf Shores, and other Alabama communities.
Learn More
Model
Common Concerns About The Transaxillary Technique
If you choose a plastic surgeon with experience in endoscopic breast augmentation, it's highly likely you will end up with beautiful results from the transaxillary technique. Unfortunately, common misconceptions about this approach exist mostly because of misinformation from people and surgeons not experienced with this technology. Common concerns include:
Breast Implants Won't Drop
This is a pretty common misconception regarding transaxillary breast augmentation prior to the advent of fiber-optic technology. With this new technology, implant placement is more precise. The location of the incision has nothing to do with implant "dropping" unless your surgeon is not experienced with this technique, in which case the surgeon may not create the pocket correctly.
Can't Be Used for Silicone Implants
As an adjunct breast implant study investigator, Dr. Burden has had the opportunity to place silicone implants using their transaxillary technique for many years before other surgeons. His superior experience enables him to analyze the breast and place silicone gel implants more precisely, with less trauma to the body – often in just 20 to 30 minutes. Dr. Burden has assembled a breast augmentation surgical team that is very experienced with this procedure and has maintained a 0% infection rate with this approach.
Creates a Wide Cleavage Area
Many women worry that with the transaxillary incision they will end up with breast implants placed too far apart and no cleavage. Actually, cleavage depends on a woman's individual anatomy, not the incision used during surgery. However, a plastic surgeon who is not experienced with this incision may unnecessarily create a wide cleavage area.
Breast Implants Fall to the Sides When Laying Down
Natural breasts fall to the sides when a woman lies down. If the pocket is created incorrectly, the implants can fall into the armpits instead. This problem is usually the result of an inexperienced surgeon and can actually happen with any incision placement.
A Reputation Built On Results
Had partial facelift 10 yrs ago at age 65 - Dr. Burden is the best of the best- his entire staff is...
3 months ago Dr. Burden performed facelift, blepharoplasty and brow lift procedures on me, and I am...
5'4, 123lbs & was a 32A cup before my BA! 1 day post-op 485cc SSF I am keeping my journey updated with...
5'4, 123lbs & was a 32A cup before my BA! 1 day post-op 485cc SSF I am keeping my journey updated with...