Destin Plastic Surgery
4485 Furling Lane
Destin, FL 32541
Phone: (850) 654-1194
Monday–Thursday: 7 a.m.–5 p.m.
Friday 7 a.m.–2 p.m.

Anti Aging Skincare Clinic
4485 Furling Lane
Destin, FL 32541
Phone: (850) 654-8015
Monday–Thursday: 7:30 a.m.–5 p.m.
Friday 7:30 a.m.–2 p.m.

Endoscopic Brow Lift
No Scar on the Face
Modern medical advances have made it possible for patients to have endoscopic (minimal incision) surgery and be back to routine activities in 2 to 3 days. With a quicker recovery time and only minimal pain, an endoscopic brow lift at Destin Plastic Surgery in Florida allows patients to return to their normal lifestyle with less discomfort than is usually associated with a classic coronal brow lift, also called a forehead lift. This is especially appealing to men and women who want to limit the scar on their forehead and scalp and, most importantly, the loss of hair.
Dr. W. R. Burden is a fully trained plastic surgeon, certified in cosmetic surgery of the face, breast, and body. He is a pioneer in minimally invasive facial surgery, having performed the University of Florida's first endoscopic brow lift in 1994. He later performed Northwest Florida's first endoscopic brow lift in 1995 in Fort Walton Beach. Since then, he has performed thousands of facial procedures, has developed advanced techniques of lower eyelid and facial surgery, is currently writing papers on facial surgery, and has co-authored articles on rejuvenating the area around the eyes.
For more information about brow lift surgery, request a consultation online to meet with Dr. Burden or call our office at (850) 654-1194. Located in Destin, Florida, we provide first-class services for patients choosing brow lift surgery from surrounding cities like Panama City and Pensacola, as well as neighboring states and international locations.
Ponytail Lift
Although many people consider facial surgery to be for older people, the endoscopic brow lift is frequently performed for young adults to achieve an arched eyebrow. Some people have a flat or droopy-shaped outer brow. The endoscopic approach allows the brow to be lifted and arched using advanced minimally invasive techniques.
Aging Of The Eye Area
The eyes affect the expression of the face more than any other of the facial structures. We notice the eyes first when we engage another person in conversation, when we look at facial pictures, or when we are attending social functions. Consequently, the effects of both aging and the environment first reveal themselves in the eyes.
There are 3 aspects that will influence the appearance of the eyes:
Position of the brows
Upper eyelid heaviness
Lower eyelid bagginess
When the eyebrows have lowered, you have a closed-eye, concerned, appearance.
Excess skin on the upper eyelids gives the appearance of being tired and makes you look older.
The lower eyelids, when "baggy," give the appearance of a poor night's sleep and can make you look old, tired, and sometimes angry.
Fortunately, all 3 of these structures can be surgically treated to improve the eyes and restore that rested, youthful appearance.
Tracing facial plastic surgery's history from nip-and-tuck techniques to advanced approaches using fiber optics and tiny incisions, Dr. Burden provides a must-have guide for anyone considering facial cosmetic surgery. The conversational Q&A format presents valuable information in a way that's easy to understand.
Get Your Facial Cosmetic Surgery Guide
Brow Lift Versus Eyelid Surgery
Frequently, people are told that they need upper eyelid surgery. They will have droopy skin at the outer aspect of the eye with a fold in the crow's feet area. At casual observation, the patient will agree. Unfortunately, the wrong operation is often performed. A brow lift would have been the appropriate procedure and upper eyelid surgery done if there were excess skin following the brow lift.
If you look carefully at the skin between your eyebrow and your upper eyelid, you will note that the skin immediately below the brow is thick and of a different color and texture than the skin covering the eyelid. The eyelid skin is usually darker and thinner and much more supple. It is inappropriate to resect this upper eyelid skin resulting in the placement of the brow skin on the upper eyelid.
The eyebrow position acts as the scaffold on which the upper eyelid is based. The brow should be placed in its proper position first. Then if extra skin or bulging of the upper eyelid fat is apparent, upper eyelid surgery can be performed safely.
We are frequently consulted by patients for improvement of their upper eyelid appearance after they have had upper eyelid surgery, and they realize that they need a brow lift; however, a brow lift cannot be performed as skin removed from the previous upper eyelid surgery prevents them from being able to close their eye when the brow is elevated to the proper position.
Dr. Burden is a renowned, board-certified plastic surgeon skilled in face, breast, and body procedures. An innovator and educator in aesthetics for over 25 years, Dr. Burden pioneered "No Scar on the Breast" augmentation. His expertise and compassionate presence provide a rewarding treatment experience from the initial consultation to the final results.
Meet Dr. Burden
Credentials You Can Trust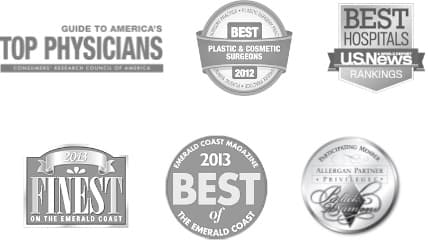 Advantages Of Endoscopic Brow Lift
In the past, to improve the appearance of the eyebrows and forehead, a traditional brow lift was performed. It was done by making a large incision from ear to ear across the top of the scalp and removing a section of scalp. Although the cosmetic appearance was favorable, the procedure often left a person with a numb spot on the top of their head and a large scar across the top of the head, which was sometimes visible, especially in men with short hair, and women who had a short hairstyle.
A modern surgical technique, called an endoscopic brow lift, was developed to minimize the large scar of the traditional brow lift. This new endoscopic procedure involves a much smaller incision and no removal of scalp or hair. The incision is approximately 10 to 15 mm (less than 1/2 inch) in length. There is one incision in each temple and 2 incisions at the top of the scalp, behind the hairline. Using a fiber optic camera, which is approximately the size of a pencil, the brows are elevated along with the forehead. The muscles between the brows at the top of the nose are weakened. This prevents the deep furrows in that area that gives a person a stern, angry appearance.
In addition to raising the central aspect of the brows, the endoscopic brow lift also elevates the brows at the outer corner of the eyes, improving the arch.
Recovery After Brow Lift
This surgery is usually performed on an outpatient basis and is frequently combined with other procedures, such as lower eyelid surgery and facelift surgery. Bruising and swelling persist for a week or two, depending on the individual.
Dr. William R. Burden, MD, FACS is known for his experience and dedication to staying in the forefront of leading technology in plastic surgery. Dr. Burden not only treats many patients from Panama City, Pensacola, Fort Walton Beach, Tallahassee, Dothan, Atlanta, and Birmingham but also from around the world. Many people travel from Europe, South America and Asia to Destin to seek out his services.
A Reputation Built On Results
Had partial facelift 10 yrs ago at age 65 - Dr. Burden is the best of the best- his entire staff is...
3 months ago Dr. Burden performed facelift, blepharoplasty and brow lift procedures on me, and I am...
5'4, 123lbs & was a 32A cup before my BA! 1 day post-op 485cc SSF I am keeping my journey updated with...
5'4, 123lbs & was a 32A cup before my BA! 1 day post-op 485cc SSF I am keeping my journey updated with...