Destin Plastic Surgery
4485 Furling Lane
Destin, FL 32541
Phone: (850) 654-1194
Monday–Thursday: 7 a.m.–5 p.m.
Friday 7 a.m.–2 p.m.

Anti Aging Skincare Clinic
4485 Furling Lane
Destin, FL 32541
Phone: (850) 654-8015
Monday–Thursday: 7:30 a.m.–5 p.m.
Friday 7:30 a.m.–2 p.m.

Rhinoplasty
Nose surgery, technically called rhinoplasty, can be performed for cosmetic and/or reconstructive reasons. Dr. Burden has had extensive experience with both cosmetic and reconstructive nose surgery. He has attended numerous symposia and courses on advanced techniques in nose surgery. He often performs surgical revisions at Destin Plastic Surgery in Florida of previous rhinoplasty procedures that the patients have undergone elsewhere.
Is Cosmetic Rhinoplasty Right For Me?
Patients who undergo nose surgery regard the procedure on a personal basis. Usually, an individual will want nose surgery for the following reasons:
They feel their nose is out of proportion with their face
A particular feature gives their nose an unusual appearance
To correct a deformity from previous injury or surgery
People rarely request a "perfect" nose. They understand that a perfect nose is a rare occurrence not usually seen naturally or after having had surgery. Variations of the appearance of the nose that give the person a unique shape or appearance are considered "elegant discrepancies." Rarely are these features changed by surgery or requested to be changed.
Following rhinoplasty, the nose should have a proportional shape without an "operated on" appearance.
What Is Re-Operative Or Secondary Rhinoplasty?
On occasion, patients who undergo nose surgery will require secondary procedures. After recovering from a rhinoplasty, bone and cartilage may heal differently than expected. This may result in some mild contour irregularities or an undesirable shape. Oftentimes, the shape is not seen until 1 year following the original procedure. Fortunately, this is not a common occurrence and can usually be improved with advanced nasal surgical techniques.
Dr. Burden is a renowned, board-certified plastic surgeon skilled in face, breast, and body procedures. An innovator and educator in aesthetics for over 25 years, Dr. Burden pioneered "No Scar on the Breast" augmentation. His expertise and compassionate presence provide a rewarding treatment experience from the initial consultation to the final results.
Meet Dr. Burden
Credentials You Can Trust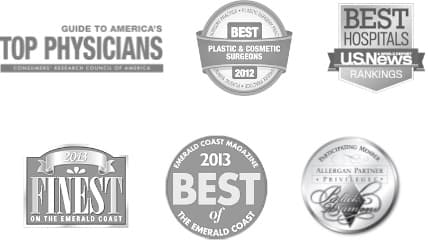 How Is Ethnic Rhinoplasty Different?
A person's nose should match their ethnicity. Each ethnicity has a shape that is unique. In the past, rhinoplasty surgery commonly left everyone with the same size and shape nose. Plastic surgeons have advanced nose surgery techniques to take into account different shapes and sizes to match the person's face.
Just as some ethnicities commonly have large noses with big humps, others have flat noses with a wide base. When these features are beyond the norm, the nose may take on an unattractive or unfavorable appearance.
Dr. Burden prefers to use a person's own cartilage and fascia as grafts to reshape the nose. This allows the dorsum and tip of the nose to be enlarged and reshaped without the need for manmade or plastic materials. The risk of infection and rejection are minimized with grafts taken from your own body.
How Long Is Rhinoplasty Recovery?
Nasal surgery requiring osteotomies (a controlled "fracture of the nose") will result in bruising of the face most notably in the lower eyelids. This may take as long as 2 to 3 weeks to clear. Nasal surgery that does not require osteotomies generally results in little bruising. Nasal swelling will be apparent for 1 to 2 weeks. At this time, approximately 80% of the swelling will have resolved. The remainder of the swelling may take as long as 3 to 6 months.
In general, patients will require narcotic pain medications for the first 24 to 48 hours. Frequently, many patients will take non-narcotic medications following their surgery.
Depending on the extent of the surgery, nasal packing may be placed in the nose and removed in 3 to 5 days following the surgery. Likewise, a splint may be applied on the nose for our rhinoplasty patients, which will be worn for 1 to 2 weeks.
Dr. William R. Burden, MD, FACS is known for his experience and dedication to staying in the forefront of leading technology in plastic surgery. Dr. Burden not only treats many patients from Panama City, Pensacola, Fort Walton Beach, Tallahassee, Dothan, Atlanta, and Birmingham but also from around the world. Many people travel from Europe, South America and Asia to Destin to seek out his services.
For more information about nose surgery, request a consultation online to meet with Dr. Burden or call our office at (850) 654-1194. Located in Destin, Florida, we provide first-class services for patients who visit us from neighboring states and international locations, as well as surrounding cities like Pensacola and Panama City for rhinoplasty and other procedures.
A Reputation Built On Results
Had partial facelift 10 yrs ago at age 65 - Dr. Burden is the best of the best- his entire staff is...
3 months ago Dr. Burden performed facelift, blepharoplasty and brow lift procedures on me, and I am...
5'4, 123lbs & was a 32A cup before my BA! 1 day post-op 485cc SSF I am keeping my journey updated with...
5'4, 123lbs & was a 32A cup before my BA! 1 day post-op 485cc SSF I am keeping my journey updated with...
Tracing facial plastic surgery's history from nip-and-tuck techniques to advanced approaches using fiber optics and tiny incisions, Dr. Burden provides a must-have guide for anyone considering facial cosmetic surgery. The conversational Q&A format presents valuable information in a way that's easy to understand.
Get Your Facial Cosmetic Surgery Guide