Destin Plastic Surgery
4485 Furling Lane
Destin, FL 32541
Phone: (850) 654-1194
Monday–Thursday: 7 a.m.–5 p.m.
Friday 7 a.m.–2 p.m.

Anti Aging Skincare Clinic
4485 Furling Lane
Destin, FL 32541
Phone: (850) 654-8015
Monday–Thursday: 7:30 a.m.–5 p.m.
Friday 7:30 a.m.–2 p.m.

Vaginoplasty & Vaginal Rejuvenation
Vaginoplasty & Vaginal Rejuvenation
Cosmetic procedures to rejuvenate the female genitalia are continuing to increase in popularity. Although they are not as frequently spoken about in the community as other cosmetic procedures, these procedures can be equally gratifying for patients. Many women attain increased comfort, enhanced appearance, and improved self-esteem with cosmetic procedures such as vaginal rejuvenation and labiaplasty. In Destin, Florida, women trust board-certified plastic surgeon Dr. William R. Burden because of his compassionate care and experience performing these intricate procedures.
Overview of Female Genital Anatomy
To help you understand this area of cosmetic surgery and improve communication with your doctor, we've provided a brief overview of the parts of the female genitalia. The appearance of these areas varies between women and is affected by genetics, hormones, weight changes, and childbirth, among other factors.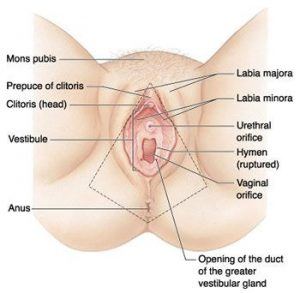 Vulva refers to the external female genitals, often incorrectly called the vagina.
Mons pubis, also called the pubic mound, is the fatty tissue located over the pubic bone.
Labia majora, or outer labia, are soft, fleshy folds of skin that protect the other structures of the vulva and are naturally covered with hair.
Labia minora, also called the inner labia, are thin, hairless folds of smooth skin surrounding the vaginal opening.
Clitoris is typically about the size of a pea and located at the front of the vulva where the labia minora meet.
The clitoral hood, or prepuce, is the skin that covers and protects the clitoris.
The vagina is the muscular canal that joins the uterus inside the pelvis to the outside of the body.
Vaginoplasty
Vaginoplasty, also called cosmetic vaginal surgery and vaginal rejuvenation, is a procedure that helps women attain increased comfort and improved self-esteem. Many women visit Dr. William R. Burden for vaginal rejuvenation surgery and female genital enhancement in Destin, Florida, because of his extensive experience and reputation for discreet, compassionate care.
Benefits of Vaginoplasty
Childbirth, weight fluctuations, and certain medical conditions can affect the muscles of the vagina and surrounding tissues, causing them to become lax and, in some cases, protrude out of the vaginal opening. Women choose vaginal rejuvenation surgery for a variety of personal reasons, which may include one or a combination of the following:
Restoring a tighter and narrower vaginal canal and opening
Removing excess stretched vaginal lining
Repairing damage due to childbirth
Increasing sensation during intercourse
Improving self-confidence
Dr. Burden can combine vaginoplasty with other cosmetic procedures, including labiaplasty, and liposuction of the pubic area (mons pubis), to provide multiple improvements with a single surgery and recovery period. Depending on your specific concerns, you may also be eligible for nonsurgical vaginal rejuvenation with ThermiVa®.
What To Expect
Vaginal rejuvenation is performed as an outpatient procedure while you are under general anesthesia. During the procedure, your surgeon removes excess loose vaginal lining and surrounding tissues and tightens lax vaginal muscles. The surgery typically takes 1 to 2 hours to complete.
Recovery Time
After vaginal rejuvenation surgery, most patients are ready to return to work within about a week. Any initial discomfort may be controlled with prescription pain medication for the first few days. Patients will need to avoid heavy lifting, strenuous exercise, and intercourse until cleared by their doctor.
Dr. Burden is a renowned, board-certified plastic surgeon skilled in face, breast, and body procedures. An innovator and educator in aesthetics for over 25 years, Dr. Burden pioneered "No Scar on the Breast" augmentation. His expertise and compassionate presence provide a rewarding treatment experience from the initial consultation to the final results.
Meet Dr. Burden
Credentials You Can Trust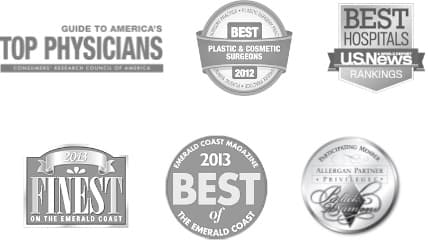 Your Other Genital Enhancement Options
Dr. Burden is experienced in performing a variety of cosmetic surgery procedures to enhance a woman's genitalia. He customizes the following procedures to the unique anatomy and goals of each patient:
ThermiVa® is a nonsurgical treatment that uses radiofrequency energy to tighten and tone the vulvar structures. Treatment areas include the labia majora, labia minora, and the inside of the vagina. For many patients, this is a wonderful option for rediscovering sexual enjoyment and personal confidence.
Labiaplasty, also called labia reduction, improves the appearance of the labia majora and minora and reduces some of the discomfort caused by elongated labia.
Lipoinfiltration of the labia majora increases the fullness of the outer labia using excess fat removed with liposuction from another area of the body. Following childbirth and due to the natural aging process, the labia majora may shrink due to atrophy. This can lead to prominence and over-projection of the labia minora. Lipoinfiltration can restore youthful fullness to the larger outside labia and enhance the general attractiveness of the female genitalia. Dr. Burden frequently performs this procedure simultaneously with labiaplasty.
Elevation of the pubic mound (mons pubis). Pregnancy, weight gain, and the natural aging process can cause the pubic mound to sag. Dr. Burden performs a surgical lift of the mons pubis as an individual procedure or as part of a tummy tuck or Mommy Makeover.
Liposuction of the pubic mound (mons pubis) flattens and reduces a bulging pubic area by removing excess fat. This procedure may be performed on its own but is commonly performed with elevation of the mons pubis.
Hoodectomy, also called clitoral hood reduction, removes excess skin from around the clitoris that can cause discomfort. This procedure is often combined with labiaplasty.
Many women also choose laser hair removal to remove unwanted pubic hair effectively.
Vaginal Rejuvenation/Genital Enhancement FAQ
Female cosmetic surgery of the genitals continues to increase in popularity throughout the U.S. and other countries. Because women typically don't talk about these concerns, even with close friends, they often have many questions. Here are answers to some questions Dr. Burden is commonly asked.
Is it better to choose a plastic surgeon or an OB/GYN for genital cosmetic surgery?
Either surgical specialist should have the qualifications for the surgery you are interested in undergoing. You want a surgeon who performs the procedure on a routine basis and can handle problems that may occur. The surgeon should be able to show you before-and-after pictures, describe the procedure and what you should expect preoperatively and postoperatively, and provide you with references.
What's the difference between a labiaplasty and a vaginoplasty?
A labiaplasty (labia reduction) changes the shape and size of the labia minora (the inner vaginal labia). A vaginoplasty (vaginal rejuvenation) changes the shape of the vaginal orifice (opening). Commonly after a woman has a delivery, the vagina and pelvic floor become stretched and sometimes scarred from the trauma of surgery or having undergone an episiotomy. This scar tissue is removed, and the pelvic floor muscles are realigned.
I have a bulge of excess fat above my pubic area. Can you get rid of It?
The fat in the area over the pubic bone can be removed with liposuction. Many women find it disconcerting when they have a bulge in this area. They don't like the way bathing suits fit, nor do they like the appearance of this area. Liposuction can remove excess fat and provide a better contour.
Is there a nonsurgical vaginal rejuvenation alternative to surgery?
Yes. Some women have concerns that are better addressed with ThermiVa, a treatment that uses radiofrequency energy to tighten tissue and muscle with controlled heat. ThermiVa can be used to treat the exterior or interior of the vagina or both.
Take the Next Step
For more information about vaginal rejuvenation or female genital enhancement, call our office today at (850) 654-1194 or request a consultation. Located in Destin, Florida, we provide first-class services for patients from surrounding cities like Panama City and Pensacola, as well as neighboring states and international locations.
A Reputation Built On Results
3 months ago Dr. Burden performed facelift, blepharoplasty and brow lift procedures on me, and I am...
5'4, 123lbs & was a 32A cup before my BA! 1 day post-op 485cc SSF I am keeping my journey updated with...
5'4, 123lbs & was a 32A cup before my BA! 1 day post-op 485cc SSF I am keeping my journey updated with...
5'4, 123lbs & was a 32A cup before my BA! 1 day post-op 485cc SSF I am keeping my journey updated with...