Destin Plastic Surgery
4485 Furling Lane
Destin, FL 32541
Phone: (850) 654-1194
Monday–Thursday: 7 a.m.–5 p.m.
Friday 7 a.m.–2 p.m.

Anti Aging Skincare Clinic
4485 Furling Lane
Destin, FL 32541
Phone: (850) 654-8015
Monday–Thursday: 7:30 a.m.–5 p.m.
Friday 7:30 a.m.–2 p.m.

Laser Hair Removal
Imagine significantly decreasing the time spent having to shave, wax or pluck your unwanted hair. No more messy creams, razor burn or unsightly stubble. The Anti Aging Skincare Clinic offers laser hair removal in Destin for Fort Walton Beach, Valparaiso, Niceville, and Miramar Beach men and women who want to remove hair from areas such as the upper lip, bikini area, underarms, chin, sideburns, beard areas, back and even entire arms or legs.
Here at Destin Plastic Surgery we use the Alma Soprano ICE for laser hair removal. With this laser, you can treat any area of the body (male and female). This technology is considered virtually painless as the laser is continually moving. It uses SHR technology which starts out cold and gradually increases in temperature of the skin to damage the hair follicle and prevent regrowth. This takes away the painful zaps that most patients are used to. It is effective for all skin tones and hair thickness if the hair is dark. These sessions are much quicker than old school lasers with no down time at all. We do recommend that patients wear sunscreen and remain out of the sun right after their treatment. It is important to note that this is permanent reduction of hair. Some patients may needs touch ups down the line. The number of sessions vary from patient to patient depending on skin tone, hair density and coarseness.
We offer a free laser hair removal consultation to discuss your treatment plan and price. Packages are also available for purchase. At your consultation, Rachel Joseph, PA-C will discuss the removal of unwanted hair and the importance of customizing a treatment for your needs. You will get to see and learn how laser hair removal works and discuss the cost of laser hair removal. Imagine the extra time you would save never having to shave, tweeze or wax again.
Dr. Burden is a renowned, board-certified plastic surgeon skilled in face, breast, and body procedures. An innovator and educator in aesthetics for over 25 years, Dr. Burden pioneered "No Scar on the Breast" augmentation. His expertise and compassionate presence provide a rewarding treatment experience from the initial consultation to the final results.
Meet Dr. Burden
Credentials You Can Trust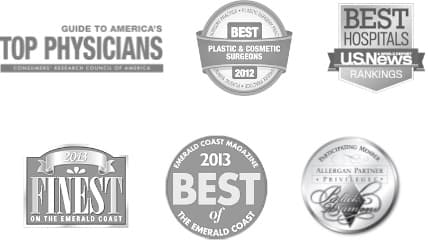 Good Candidates For Laser Hair Removal
Whether you have hair on your legs, face, back, bikini line, or anywhere on your body, chances are you've tweezed, plucked, shaved, waxed, or even tried electrolysis. Laser hair removal has made all of those older methods obsolete by offering a much faster, less painful, and longer lasting solution for unwanted hair. Laser hair removal can also improve the appearance of painful razor bumps. You'll decrease the hassle and expense of razors, bleaching cream, and depilatories as well.
Our hair removal laser is excellent for men, whose treatment areas — such as the back or chest — are often significantly larger than the areas targeted by women.
Laser Hair
Removal
Treatment Areas For
Men & Women
Face
Arms & Legs
Underarms
Back
Chest & Shoulder
Bikini Area
Models
How Does Laser Hair Removal Work?
Laser hair removal works by targeting the pigment in the hair follicle and destroying the capillary to the follicle so that the follicle no longer produces hair. With our laser, we have the newest technology to perform hair removal on people with darker skin tones and light hair.
Since at any point in time your hair follicles are in 1 of 3 different stages, it takes from 6 to 8 laser hair removal treatments to achieve full results. There are no shortcuts to this process. Each treatment reduces a progressive percentage of the hair until ultimately the skin becomes smooth and virtually hair free. Most notice improvement after the first treatment. The truth: Laser hair removal can be long-lasting and stable, but rarely is it permanent. No laser on the market can make you 100% hairless. Most offer 80% to 90% removal with correct treatment and laser technology.
How Do I Prepare For Treatment?
Laser hair removal is more than just "zapping" unwanted hair; it is a medical procedure that requires training to perform and carries potential risks. Prior to having laser hair removal, you should thoroughly check the credentials of the doctor or technician performing the procedure.
Once you have planned laser hair removal, you should limit plucking, waxing and electrolysis for 6 weeks before treatment. That's because the laser targets the hairs' roots, which are temporarily removed by waxing or plucking. You may be asked to shave the hair a day before or the day of your treatment, depending on the area being treated.
Why Should I Come To Your Office For Laser Hair Removal?
Hundreds of satisfied women and men from Fort Walton Beach, Valparaiso, and the Destin area who underwent laser hair removal treatments at our practice have achieved the smooth, hair-free skin that they desired. Our Soprano XLi laser technology is the most advanced solution for safe, fast, and virtually painless laser hair removal, producing reliable and superior clinical results. Its breakthrough IN-Motion™ sweeping technique delivers comprehensive coverage to eliminate missed and skipped spots, for consistently smooth results.
Our Soprano XLi offers the fastest procedure time available in the market today. A laser procedure is so convenient that it can be done over the lunch hour or on the way home from work. Unlike other lasers, the Soprano XLi can treat all skin types, including tanned skin, so we can deliver virtually painless treatments year round.
In our office, your privacy, safety and trust are of the utmost importance. We are passionate about our quality of service and we care about our patients.
Is It Expensive?
Laser hair removal is affordable if you consider the costs of waxing, over-the-counter topical products and other hair removal methods over the course of many years. The price of laser hair removal depends on the area being treated. Destin Plastic Surgery offers free consultations and accurately prices its treatment packages through completion of the process, and beyond.
For more information about laser hair removal and package pricing, request a free laser hair removal consultation online or call our office at (850) 654-1194.
A Reputation Built On Results
3 months ago Dr. Burden performed facelift, blepharoplasty and brow lift procedures on me, and I am...
5'4, 123lbs & was a 32A cup before my BA! 1 day post-op 485cc SSF I am keeping my journey updated with...
5'4, 123lbs & was a 32A cup before my BA! 1 day post-op 485cc SSF I am keeping my journey updated with...
5'4, 123lbs & was a 32A cup before my BA! 1 day post-op 485cc SSF I am keeping my journey updated with...