Destin Plastic Surgery The Grant Building
4485 Furling Lane
Destin, FL 32541
Phone: (850) 654-1194
Monday–Thursday: 7 a.m.–5 p.m.
Friday 7 a.m.–2 p.m.

Anti Aging Skincare Clinic The Grant Building
4485 Furling Lane
Destin, FL 32541
Phone: (850) 654-8015
Monday–Thursday: 7:30 a.m.–5 p.m.
Friday 7:30 a.m.–2 p.m.

Facelift
At Destin Plastic Surgery our facelift patients very commonly tell us, "Although I look older, I feel much younger." As our society has become more fitness oriented, many men and women remain active longer than they did in the past. Although someone maybe 65 or 70 years old, they frequently can be found on the tennis courts and giving a younger person a very challenging tennis match. I hear the patients say, "I want to look as young as I feel."
For more information about facelift surgery, request a consultationrequest a consultation online to meet with Dr. Burden or call our office at (850) 654-1194. We provide first-class services for patients choosing facelift surgery from surrounding cities such as Pensacola and Panama City, FL; Mobile, Gulf Shores, and Enterprise, AL and other cities in neighboring states; and international locations.
Dr. William R. Burden is known internationally and throughout the Southeast as a specialist in facial cosmetic surgery. He is the surgeon that other plastic surgeons go to. Doctors seek out his care and refer their spouses, family, and patients to him. He developed the "No Scar on the Face Browlift" at Destin Plastic Surgery and is known for his natural appearing results. Dr. Burden will listen to your concerns and help you achieve your goal for the improved appearance you desire.
New Philosophy, New Surgery
For over 50 years the practice of facial plastic surgery involved a "nip and tuck" philosophy. That is, the excess skin which has lost its elasticity had to be excised (nipped) and then the incision closed (tucked). Even though the results were good, quite often the early result gave the person a pulled or stretched appearance.
Dr. William Burden
Founder, Destin Plastic Surgery
Board-certified plastic surgeon Dr. Burden knows that building a distinguished career doesn't happen overnight. He's been serving the community for more than 2 decades, providing personalized aesthetic care and leading the field with pioneering techniques.
State-of-the-Art, Multi-Specialty Surgical Center
Since the underlying structures were not surgically altered, the tightly pulled skin was the supporting structure for the results of the nip and tuck facelift. Skin assumes the shape of the underlying structures. As the skin relaxed following the facelift, the underlying aged face began to "show through."
Over the last 10 or more years, plastic surgeons have been adopting a "redraping" technique. That is, the skin is elevated, then the underlying structures, such as the facial fat, are elevated and the muscles of the neck are tightened. The excess fat is removed from the appropriate areas and replaced in the areas of deficit. The skin is then redraped over the new underlying frame and any excess skin removed. This results in a less pulled or stretched appearance. Also, as the skin relaxes the underlying structures have a new shape and the results of the facelift are retained for a longer period of time. When choosing a Destin plastic surgeon, it's important to find out whether he or she uses this updated technique.
Results Worth the Drive
See why people travel to Destin Plastic Surgery from Mobile, Dothan, Gulf Shores, and other Alabama communities.
Learn More
Comprehensive Approach
Loose skin of the face, which causes jowling, and loose skin of the neck can be corrected by a facelift. In addition to removing the excess skin, newer techniques are used to tighten the muscles of the neck and the deep tissues of the face. The SMAS facelift, otherwise known as the S-lift or deep plane facelift, places less tension on the skin, thus avoiding the "swept back" appearance of a "skin only" facelift. This approach can also be tailored for men, who often want to retain a more masculine appearance while still reducing loose neck skin and jowls.
To obtain a comprehensive result, the forehead, the lower eyelids, and the face should all be corrected as unit. There are exceptions to this, as some people may only need one part of this triad corrected.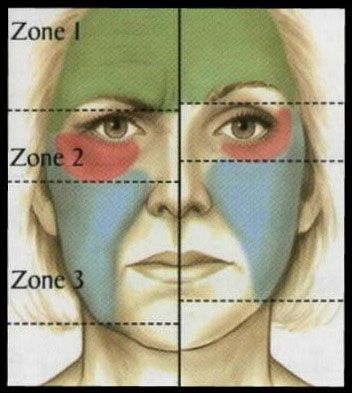 Note in the diagram how dramatic the result can be when the entire face is addressed as opposed to one segment only. (Diagram courtesy and permission of Sam Hamra, MD.)

Recovery After Facelift
Should you choose Destin Plastic Surgery for your facelift procedure, you should allow adequate time for recuperation. In general, 3 to 6 weeks is adequate for recovery to allow you to return to your normal social activities. Immediately following the surgery, pain is controlled with narcotic pain medications. After approximately 2 to 3 days, most people require pain medications at night only for sleep. At 10 to 14 days, most people will not require narcotic pain medications and will be comfortable with acetaminophen or a mild narcotic for pain control.
A comfortable dressing is applied to the face and neck for the first 24 to 48 hours following the surgery. This dressing is removed and replaced with a light weight garment to help support the neck and the face. This is worn for approximately 1 week following the surgery. For the first 24 to 48 hours, activities are restricted to short trips to the bathroom and to a chair. Activity increases with each person's comfort level. In general, most people return to their normal activities at 2 to 3 weeks. Some people use BOTOX® Cosmetic in the Pensacola area to maintain their new youthful look after surgery.
Please contact us online if you have further questions regarding this procedure.
Dr. William R. Burden, MD, FACS is known for his experience and dedication to staying in the forefront of leading technology in plastic surgery. Dr. Burden not only treats many patients from Panama City, Pensacola, Fort Walton Beach, Tallahassee, Dothan, Atlanta, and Birmingham but also from around the world. Many people travel from Europe, South America and Asia to Destin to seek out his services.