The top 30 breast augmentation surgeons in the United States, including Dr. William Burden of Destin Plastic Surgery, met recently to discuss the latest trends and techniques in their field.
Destin, Florida (October 2012) – Dr. William Burden, founder and CEO of Destin Plastic Surgery, joined 30 of the top-volume breast augmentation plastic surgeons in the United States for the LEAD (Leadership, Experience And Development) program hosted by Mentor Corp., a world leader in breast implant technology.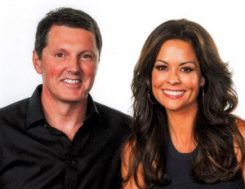 Mentor invited the elite group of surgeons to Los Angeles to discuss the future of breast enhancement procedures, new techniques, breast implant technology, product development and research. These surgeons were brought together to share their knowledge and clinical expertise in the field of breast surgery.
Dr. William Burden, CEO of Destin Plastic Surgery, with Brooke Burke-Charvet, Mentor spokesperson.In addition, Dr. Burden has been appointed to the International Physicians Advisory Board of Mentor Corp. The board is a select group of plastic surgeons chosen based on experience and volume in breast enhancement surgery and will advise Mentor Corp. on product development and practice management systems.
"This meeting allows us to stay at the pinnacle of breast enhancement surgery," Dr. Burden says. "We share ideas and discuss innovations with other leading plastic surgeons from around the country. And Brooke Burke-Charvet, the new spokeswoman, will undoubtedly heighten awareness of breast enhancement options for women."
Women from across the country come to Dr. Burden and the team at Destin Plastic Surgery for breast augmentation. To find out more, request a consultation online, or call our office at (850) 654-1194 to schedule your appointment.
For more information about the LEAD program and its participants click here.