The Brazilian butt lift is an increasingly popular surgery here along the Gulf Coast and across the country. From celebrities in big cities to moms in small towns, bigger, fuller, shapelier bottoms are definitely trending. In addition to enhancing your buttocks, a Brazilian butt lift removes unwanted fat from other areas of your body, making it the perfect 2-in-1 procedure.
What Happens During a Brazilian Butt Lift?
We take fat from areas such as the hips, waist, stomach, and thighs and use it to add volume to the buttocks. The fat is harvested using liposuction and is then processed using the highly advanced REVOLVE™ system to remove impurities and excess fluid. We inject the purified fat into the buttocks, making sure they appear as natural and smooth as possible.
Most doctors prefer Brazilian butt lifts over implants because fat can be shaped and placed more precisely. Implants are typically used for patients who don't have enough fat and have difficulty gaining weight.
Brazilian Butt Lift Before and After: What Do Results Look Like?
You can see the 2-in-1 benefits of a Brazilian butt lift in my patient's before and after photos below. Notice how trim her waist is after the procedure (on the right) and how it enhances the augmentation of her buttocks.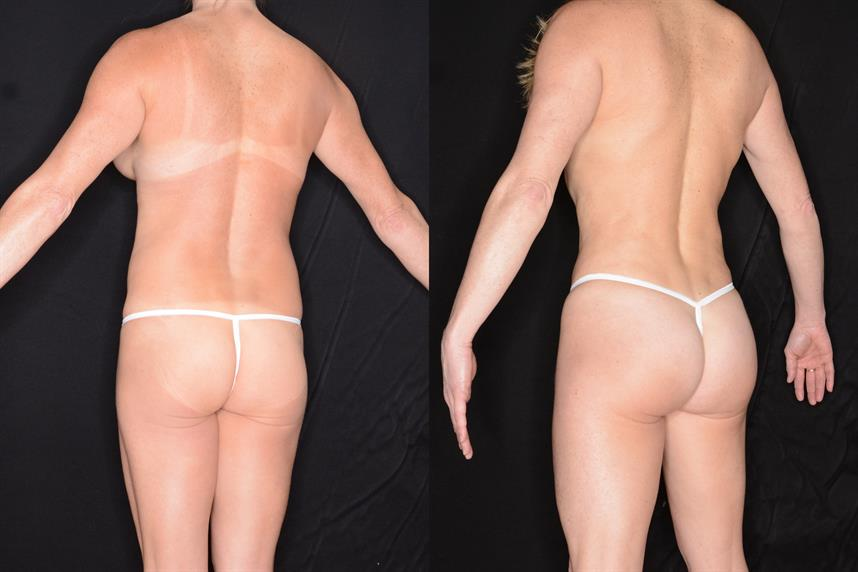 How Long Is Brazilian Butt Lift Recovery?
There is a significant healing process with this procedure. For the first 2 to 3 weeks after surgery, we advise patients to minimize any pressure to the area where the fat has been grafted. That means you'll need to avoid sitting directly on your buttocks, and you'll have to sleep on your side or stomach. By taking care of the areas that received fat grafts and using the provided compression garments, patients can successfully achieve their desired results. Learn more about how can prepare for recovery in this blog post.
Who Is a Candidate?
To be a good candidate for this procedure, you should be in good overall health and have a positive outlook with realistic expectations for your results. You should also be close to your ideal weight, with enough fat for liposuction and skin that has good elasticity. If you are unhappy with flat, sagging, asymmetrical, or small buttocks, a Brazilian butt lift may be right for you. You can learn more about who makes a good candidate for this buttock augmentation procedure from the American Society of Plastic Surgeons.
The ultimate results from the procedure are fuller buttocks and a thinner waist, flatter tummy, or slimmer thighs. Patients report that their clothes fit better and they feel more confident in tight-fitting clothing and bathing suits. Patients should consider the double value of the Brazilian butt lift procedure in achieving their ideal body curves.
To see examples of the results you can expect, please visit our before-and-after photo gallery.
If you have questions about the procedure or want to know more about your options, request a consultationrequest a consultation or call our office at (850) 654-1194. We are happy to help you get the body you've always wanted.